Boomers' taste in cars differed from their thrifty, Depression-era parents. The younger generation wanted fast, performance cars. Henry Ford II, Ford's CEO, was advised he needed to add a sports car to his line-up.The Mustang was still a couple of years away from production.
So in 1962, the Deuce offered to buy Ferrari from Enzo Ferrari. Enzo was at his heart a race car driver. Selling to Ford would have relieved him of the burden of running the production business that funded his race team.
The two executives were toward the end of finalizing their deal, but it fell apart in 1963.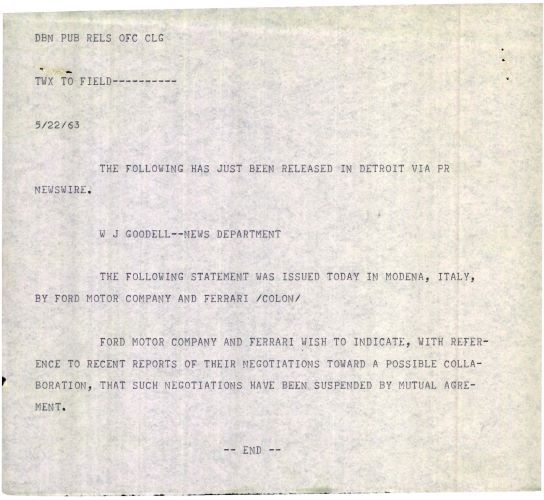 1963 Press release from Ford, announcing end of negotiations to purchase Ferrari.
Reportedly, the deal fell apart because Henry Ford II told the race car executive that Ford wanted to control the Ferrari racing team. There was a falling out between the two companies and their executives, leaving the Deuce with a burning desire to avenge the insults of the Italian automaker. The Deuce took the fight to where it would hurt most: The famed 24 of Le Mans, the oldest endurance auto race in the world. The "Ferrari Killer," the Ford GT40 was born.
Starting from scratch to build a race car that could outperform the Ferrari at the grueling Le Mans race wasn't easy. And Ford lost at the Le Mans in 1964 and 1965. Then the Deuce turned to famed car designer Carrol Shelby and test-driver and Ken Miles to redesign the GT40. The two are portrayed by Matt Damon and Christian Bale respectively in the 2019 film,
Ford v. Ferrari
, which recounts this important story in Ford history.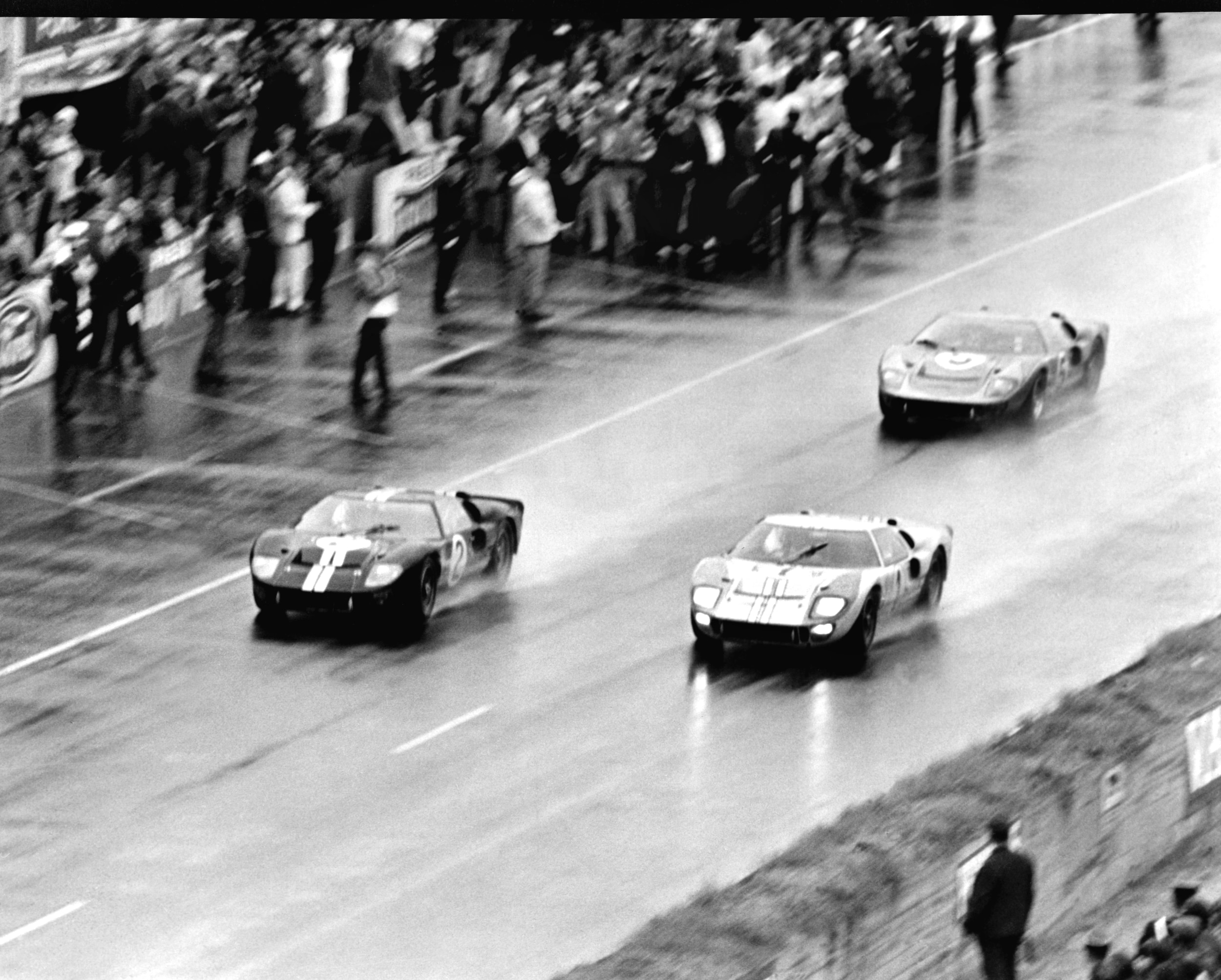 On June 19, 1966, Ford finished in first, second, and third place. Not a single Ferrari even completed the race. Revenge for the Deuce was sweet.
This historic press release
gives more of the back story on what went into this sweet moment in Ford's history.
Merrill Ford Okemos' owner, Barry Merrill, has purchased a classic car with ties to the 1966 Le Mans. The car will be on display in the dealership's Okemos showroom at 1830 Grand River Avenue, starting on Saturday, Jan 18. The dealership is open from 9 a.m. to 6 p.m.
Ford, classic car, and history buffs are going to want to see this historic car in person.